The Contented Ego - Imam 'Ali
Introduction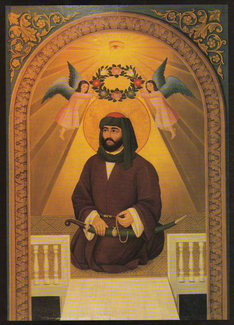 "I am the city of knowledge and 'Ali is its gate."
The Prophet Mohammad, Hadith
"Eyes see him not through sight's observation,
but hearts see him through the verities of faith.
Hazrat 'Ali

"Truly, God has made the remembrance (al-dhikr) a polish for the hearts, by which they hear after being deaf, and see after being blind and yield after being resistant."
Hazrat 'Ali
Our winter class will introduce you to Hazrat 'Ali, his life and teaching. The "city of knowledge" the Prophet referred to is the divine essence, arrived at through realization of any one of the divine names, as in the Prophet's directive "Allah has ninety-nine names. Whoever memorizes one of them will enter Paradise." The word "memorize", as used by the Prophet, means to be informed by, moment by moment, until one arrives at its source. As he was dying, the Prophet whispered into 'Ali's ear. When 'Ali was asked what he said he replied, "He taught me of a thousand gates of knowledge, and each gate opened for me another thousand gates. He made a bequest to me which I will undertake, if God wishes."


For everyone initiated into the spiritual lineage of Hazrat Inayat Khan, who was initiated into four different Silsilas, Hazrat Amir al-Mu'minin 'Ali Murtaza is listed at the beginning of three of these, the Chishtiyya, the Suhrawardiyya, and the Qadiriyya. His baraka flowed through all three Silsilas to you at the moment of bayat.


Hazrat 'Ali embodied what the Sufis call the contented ego (Nafs e-Salima), despite the fact that his life was incessantly filled with earthshaking difficulties and disappointments. His example can be an aspiration for those facing such difficulties in our time. His every effort was in support of the awakening of humanity to Divine Reality. Unconquered in battle, he was the exemplar of Islamic chivalry. As Caliph, he spent his every waking hour supporting the emergence of a society where there is no gap between the "haves" and the "have nots," a discussion lamentably still very much alive in our time. As a teacher of ma'rifa, divine knowledge, in a manner that addresses everyday life he is peerless. Perhaps it is time for you to become acquainted with this great spiritual force in your spiritual lineage?
"Practically all Sufis regard either Hazrat Ali or
Abdul Kadir-i-Jilani of Bagdad as the greatest of saints."
Murshid Samuel Lewis
Written lessons will be posted, along with pertinent practices (including an audio tape of the practice), every other week, allowing time to read, reflect, do the practices, ask questions or make online comments, and enter into a written dialogue with class participants from around the world as well as with Himayat. Participants can enter the class whenever it is convenient to do so and can print off the lessons and class material to review after the class ends. There will be three international Zoom sangha sessions scheduled on Sundays, 1 PM (Eastern USA time).These sessions, although not required, strengthen practice, understanding the lessons, and provide a deepening sense of spiritual community (sangha). There will also be an optional three-day International Class Zoom Retreat scheduled to deepen participants realization of class material.
Pods, that are optional, will be created both in the USA and in Germany to support on-going dialogue and reflection with other class participants. All classes and Zoom meetings are given in English and will be translated into German.
Starts January 15th – Ends March 27th, 2022
Registration Ends January 3, 2022
Tuition $195.00
Past Class Reviews:
"Some years ago a tape by Himayat inspired me with a practice that helped me open my heart more. When I met him years later I thanked him and he gave me a more detailed explanation that expanded my heart even more. Because he was so immediately Present and willing to pass on his knowledge so efficiently I decided to take his online class. He has made a deep dive into the teachings of ancient Sufis both known and unknown and unraveled translations into clear English. He finds amazing music and poetry to enhance understanding as well as adds his own commentary to the teachings. The lessons offer the freedom to share with other students around the world by reading each other's written experiences with the very useful and simple practices he is offering and meeting three times on vide-conference. Himayat has a manner of modesty and non-judgement that is true to the mystic ideal and is able to bring a person deeply committed to the work into mystic states."
Murshida Asha Greer, Sufi Ruhaniat International
"It is some years ago now, that I joined Himayat's online community, and I am deeply grateful for this connection. One thing which I really appreciate is the fact that he puts a lot of time and energy and love to condense the teachings in a digestible form and offers written material, where I can go back to certain points again and again, reread important quotes and explanations, make notes etc., which would be impossible with only audio or video teachings. Plus I love his practices, which have an amazing subtlety and variety and are drawn from the ancient Sufi tradition as well as our own lineage. And I feel greatly supported by the discussions with other participants and Himayat in the online forums. It helps to stay connected, to learn from other's experiences and insights, and also their struggles. And I appreciate Himayat's profound answers to our questions and his ability to address the question behind the obvious questions.


The Buddhists speak of three jewels on the path - the teacher, the teachings and the sangha (community of fellow seekers). All three are present in Himayat's courses."
Nurunnahar Dengg, Inayatiyya, Vienna, Austria
"I have known Himayat for many years as a gifted teacher with unique insight into the Sufi way, and a wry sense of humor. I recently joined two of his online classes that explored many of the divine qualities from among the 99 names. The material for the classes included essential thematic texts that Himayat culled from some of the classic Sufi teachers. These classes are a virtual spiritual community with participants from all over the world, ranging from newer students to veteran Sufis on the path. I was particularly drawn to the practice of the divine names and the way Himayat had us working with them, which led to a deep experience of their inner flavor, tast, and atmosphere and took us beyond the level of mere verbal intonation or an intellectual explanation of their meaning. I highly recommend these classes for anyone who wants to delve deeper into the Sufi way and share with others on the path."
Sheikh Mohammad Jamal Blann, Halveti-Jerrahi
"I have participated in several of Himayat's on-line classes. I find these classes to be very enriching, adding to my growth, awakening and the repository of my spiritual heart. Himayat is an experienced and deep scholar of Sufi Mysticism with a brilliant yet practical mind. Through these classes, participants are guided into the depth of the wisdom of some of the ancient Sufis, many of whom I was unaware of. One thing I love is that Himayat pulls the diamond essence from among thousands of pages of writings of these great Sufis, giving to me teachings that I would never have the time to find or read on my own! The class format is elegant simplicity, first presenting pure teaching, then through commentary revealing secrets hidden in those teachings, and finally offering "motivational attunements" (i.e. practices) allowing us to dive into the depth of the teaching and have our own experience.
Himayat, provides audio instructions for each practice, periodic video Zoom calls to clarify or discuss the teachings and there is also room for participants to share their insights and comments or ask questions via a class 'blog'. During the class I feel that Himayat holds each of its members in his heart and keeps us engaged through regular communication - he does not just post a class and then 'checkout', he is somehow aware and with us all the way through. The classes are easy to access from any device and allow me to work at my own pace. I very much enjoy them.
There is quote from our current class I'd like to share as relevant to what I feel we are doing together in these classes, it comes from Ahmad Sam'ani : 'the experienced must sit next to the experienced, speaking about the grief and happiness of this talk, for both know the worth of the work.'
Pir Moinuddin Clarke, Fraternity of Light
To Register: Send $195.00 check addressed to: Universal Awakening, PO Box 1958, Leicester, North Carolina 28748 or process credit card via PayPal (Merchant: office@universal-awakening.org / Item: Winter 2022 Online Class). P.S. If you send money as a "friend" PayPal does not impose a processing fee. Europeans can also register through WISE. Submit funds to WISE account himayat@universal-awakening.org. Then please email me that you have registered by WISE, as they do not tell me.