Divine Love
Introduction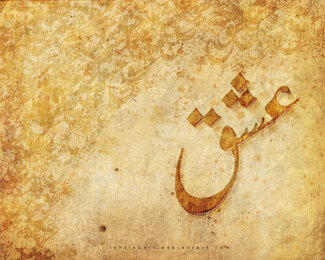 "He loves them, and they love Him"
Qur'an
"The root of love grows from eternity. . . as a seed in the ground of they love Him. No, rather, that point was planted in them, for they love Him to come forth." Aḥmad al-Ghazālī
"There is no doubt that every lover gives a different sign of the beloved, every realizer provides a different explanation, and every verifier makes a different allusion. The declaration of each is:
Our expressions are many and Your loveliness one,
Each of us points to that single beauty."
Fakhruddīn ʿIrāqī
"ʿIshq is both fire and water, both darkness and sun. It is not pain, but a bringer of pain, not affliction but a bringer of affliction. Just as it causes life, so too it causes death. Just as it is the substance of ease, so too it is the means of blights. Love burns the lover, but not the beloved. ʿIshq burns both seeker and sought." Abū ʿAbdallāh al-Anṣārī
"For a long time I imagined that I desired Him. He Himself had first desired me."
Bāyazīd al-Bastāmī
"The heart is the road, and the Friend is the homeland. When one arrives at the homeland, one no longer walks on the road. At the beginning there is no escape from the heart, but at the end the heart is a veil." Rashīd al-Dīn Maybudī
"Do not think that you and your likes have known love, apartfrom its trappings without reality. Love is only obtained by the one who obtains recognition (maʿrifa). ʿAyn al-Quḍāt
"The heart is the road, and the Friend is the homeland. When one arrives at the homeland, one no longer walks on the road. At the beginning there is no escape from the heart, but at the end the heart is a veil." Rashīd al-Dīn Maybudī
"Suffering is what is essential in love and comfort is borrowed. . .love subdues the lover, bringing him from his illusory self to his true self. . . All of these stages of the path are modalities of complete love that are bestowed upon the wayfarer until one is fit to wear 'the robe of love.'"
Aḥmad al-Ghazālī
Our fall class will attend to divine love, starting with Ahmad Ghazālī, author of Sawāniḥ al-ʿushshāq "Aspirations of the Lovers" (the oldest Persian book to address it) but mostly learning from Fakhruddīn ʿIrāqī, a
Suhrawardiyya
Pir, ending up in Konya, became a close friend of Rumi while at the same time a student of Ṣadr al-Dīn Qūnawī (Ibn al Arabi's successor). He explored the mysteries of union in his book "Lama'at" (Divine Flashes) fusing the Persian poetic tradition of love found in the "Sawāniḥ" with the Arabic metaphysics found in Ibn al Arabi's "Bezels of Wisdom." These lessons, will address this subtle material in a manner both accessible and applicable to your daily spiritual practice
Written lessons will be posted, along with pertinent practices (including an audio tape of the practice), every two weeks. This allows time to read, reflect, do the practices, ask questions or make online comments, and enter into a written dialogue with class participants from around the world as well as with Himayat.
These classes are created for sincere but overly busy people. Participants can enter the class whenever it is convenient to do so and can print off the lessons and class material to review after the class ends. There will be three schedule international Zoom sangha sessions on Sundays, 1 PM (Eastern USA time).These sessions, although not required, strengthen practice, understanding the lessons, and provide a deepening sense of spiritual community. There will also be an optional class Zoom retreat for those able and willing to clarify the lessons and practice even more so.
All will be presented in English with German translation.
Starts September 3rd – Ends November 13, 2022
Registration Ends August 17th, 2022
Tuition $195.00
Past Class Reviews:
"Some years ago a tape by Himayat inspired me with a practice that helped me open my heart more. When I met him years later I thanked him and he gave me a more detailed explanation that expanded my heart even more. Because he was so immediately Present and willing to pass on his knowledge so efficiently I decided to take his online class. He has made a deep dive into the teachings of ancient Sufis both known and unknown and unraveled translations into clear English. He finds amazing music and poetry to enhance understanding as well as adds his own commentary to the teachings. The lessons offer the freedom to share with other students around the world by reading each other's written experiences with the very useful and simple practices he is offering and meeting three times on vide-conference. Himayat has a manner of modesty and non-judgement that is true to the mystic ideal and is able to bring a person deeply committed to the work into mystic states."
Murshida Asha Greer, Sufi Ruhaniat International
"It is some years ago now, that I joined Himayat's online community, and I am deeply grateful for this connection. One thing which I really appreciate is the fact that he puts a lot of time and energy and love to condense the teachings in a digestible form and offers written material, where I can go back to certain points again and again, reread important quotes and explanations, make notes etc., which would be impossible with only audio or video teachings. Plus I love his practices, which have an amazing subtlety and variety and are drawn from the ancient Sufi tradition as well as our own lineage. And I feel greatly supported by the discussions with other participants and Himayat in the online forums. It helps to stay connected, to learn from other's experiences and insights, and also their struggles. And I appreciate Himayat's profound answers to our questions and his ability to address the question behind the obvious questions.
The Buddhists speak of three jewels on the path - the teacher, the teachings and the sangha (community of fellow seekers). All three are present in Himayat's courses."
Nurunnahar Dengg, Inayatiyya, Vienna, Austria
"I have known Himayat for many years as a gifted teacher with unique insight into the Sufi way, and a wry sense of humor. I recently joined two of his online classes that explored many of the divine qualities from among the 99 names. The material for the classes included essential thematic texts that Himayat culled from some of the classic Sufi teachers. These classes are a virtual spiritual community with participants from all over the world, ranging from newer students to veteran Sufis on the path. I was particularly drawn to the practice of the divine names and the way Himayat had us working with them, which led to a deep experience of their inner flavor, tast, and atmosphere and took us beyond the level of mere verbal intonation or an intellectual explanation of their meaning. I highly recommend these classes for anyone who wants to delve deeper into the Sufi way and share with others on the path."
Sheikh Mohammad Jamal Blann, Halveti-Jerrahi
"There are many reasons I keep signing up for Himayat's online classes: the inspiring readings we contemplate and discuss, the exquisite accompanying meditations, the camaraderie of fellow travelers on the path from around the globe, the many "flashes" and "openings" along the way.
Our "classroom" experiences together - spaces of nuance, subtlety, beauty, and new understandings- demonstrate the fresh revelations held in each moment as described by one of the greatest Sufis, Ibn al-Arabi. These studies exercise the mind and nourish the soul.
Lakshmi Barta-Norton, Inayatiyya, Providence, Rhode Island
"I have participated in several of Himayat's on-line classes. I find these classes to be very enriching, adding to my growth, awakening and the repository of my spiritual heart. Himayat is an experienced and deep scholar of Sufi Mysticism with a brilliant yet practical mind. Through these classes, participants are guided into the depth of the wisdom of some of the ancient Sufis, many of whom I was unaware of. One thing I love is that Himayat pulls the diamond essence from among thousands of pages of writings of these great Sufis, giving to me teachings that I would never have the time to find or read on my own! The class format is elegant simplicity, first presenting pure teaching, then through commentary revealing secrets hidden in those teachings, and finally offering "motivational attunements" (i.e. practices) allowing us to dive into the depth of the teaching and have our own experience.
Himayat, provides audio instructions for each practice, periodic video Zoom calls to clarify or discuss the teachings and there is also room for participants to share their insights and comments or ask questions via a class 'blog'. During the class I feel that Himayat holds each of its members in his heart and keeps us engaged through regular communication - he does not just post a class and then 'checkout', he is somehow aware and with us all the way through. The classes are easy to access from any device and allow me to work at my own pace. I very much enjoy them.
There is quote from our current class I'd like to share as relevant to what I feel we are doing together in these classes, it comes from Ahmad Sam'ani : 'the experienced must sit next to the experienced, speaking about the grief and happiness of this talk, for both know the worth of the work.'
Pir Moinuddin Clarke, Fraternity of Light
Registration: Due by August 17th. Send $195.00 to: Universal Awakening, PO Box 1958, Leicester, North Carolina 28748 or by PayPal to office@universal-awakening.org. Funds submitted by PayPal should be done as a "Friend," otherwise PayPal takes out a significant processing fee.