Keys To The Divine Treasury: The Persian Qur'an
Introduction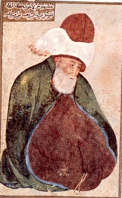 "How many words the world contains! But all have one meaning. When you smash the jugs, the water is one." Mevlan

a

This continuation of the "Keys to the Divine Treasury" series offered by Himayat Inayati explores the lives and teachings of Shems Tabrizi and Jalaluddin Rumi. Many great Sufis of Rumi's time wrote erudite treatises on Sufi lore. Rumi aware of criticism regarding the Masnavi's lack of systematic teaching of states and stations responded:



When the Koran was revealed, the unbelievers criticized it in the same way.
They said, "It is only legends and contemptible tales. There is no profound investigation or lofty inquiry. Little children understand it. It is nothing but a few commands about what is approved and disapproved.'' (M III 4237-39)


Nevertheless the "Masnavi" offers teaching upon teaching upon teaching for those who are willing to look and receive – so much so the Sufi poet Jami called it The Persian Qur'an. Mevlana , in his preface to the first book, called it the 'Decoder of the Qur'an'. And it has been said that if you are willing to work on the "Masnavi", the "Masnavi", with its transformative alchemy, will work on you. The "Masnavi" is concerned as much with how to live spiritually in this world as with how to attain access to the transcendent world. And Mevlana points out in his very first line that it offers "the roots of the roots of the roots of Religion" - the deepest roots being at the level of (Haqiqah) Reality.

Several decades ago, when he was yet to become famous as the one to ignite Rumi's fame as a poet in America, Coleman Barks use to read his transliterations in my living room. Those poems (and the ones to follow) fanned a fire that burst upon the marvel of lovers everywhere – but to a significant degree the deeper teaching remained in the shadow. Shams, also remained in the shadow as an almost mythical creature – the dervish who had a hand in igniting Rumi, turning a professor and Sufi teacher into a fountain of ecstatic and illuminating wine. This class will introduce the teaching of both Shems and Mevlana- to those who are ready!


Six lessons with practices (written and audio clips) of this class will be posted over the twelve weeks (one lesson every two weeks) - explored and applied in a manner that is accessible and addresses concerns of our time and furthers your personal process of spiritual growth. You can enter the class whenever convenient for you! There will be three video-conferences over the duration of the class. Our past class had 34 participants residing in China, New Zealand, Austria, Germany, and the USA. Come, join our international sohbet comprised of fellow wayfarers on the pathless path!



Class duration: September 1st –November 17th
Tuition: $185.00
Registration Ends: August 17, 2017



Textual Resources: "The Masnavi (Book 1) & Commentaries"(Book 7), R.A. Nicholson, "Rumi's Mystical Design: Reading the Mathnawi, Book One" S. G. Safavi & S. Weightman, "Me and Rumi" & "The Sufi Path of Love: Spiritual Teachings of Rumi", W. Chittick, and " Listen: Commentary on the Spiritual Couplets of Mevlana Rumi", Kenan Rifai
"Before I embarked on the online class about "The Early Sufis", I was reading some books about them. But I got the real clue to their precious teachings only with the help of Himayat, who not only introduced us to them but also pointed out essential points of their teachings, and gave us practices which either came directly from them or were given out of a deep attunement to them. This enabled me to go into a deep process, into a dialogue with these beings, being attracted here, being possibly challenged there, learning a lot about myself, while having the feeling that those beings watched and cared about my inner processes.
It was helpful to exchange thoughts with the other classmates from around the world, who brought up additional viewpoints - offering the possibility to clear my own thoughts and experiences through formulating and sharing them with a greater audience."
Nurunnahar Ingrid Dengg, Vienna, Austria
To Register: Send $185.00 check addressed to: Universal Awakening, PO Box 1958, Leicester, North Carolina 28748 or process credit card via PayPal (Merchant: office@universal-awakening.org Item: Fall 2017 On-line Class)