Winter - 2023
Signs of the Unseen - Teachings of Hazrat Mevlânâ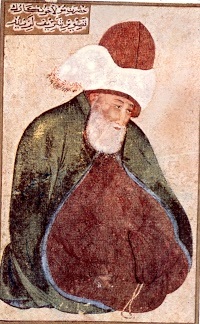 فیه ما فیه
Fihi Ma Fihi
Signs of the Unseen Teachings of Hazrat Mevlânâ
Considered a key to the Masnavi and a guide to the spiritual wayfarer



In these discourses Hazrat Mevlânâ uses our own unexamined likes, aversions, and dislikes to teach us. However, he is not just telling stories that teach, his words have been crafted to transmit something of great substance. He takes the everyday and ordinary experiences of human life as means to awaken to that all-encompassing Consciousness that identifies Itself as "I am that I Am," or as the title of these discourses identifies It as Fihi Ma Fihi, (It Is What It Is).
"Even if be after a thousand years, these words will reach those for whom they are intended."
Hazrat Shams-i Tabrīzī



"God revealed this present world so that you could accept the other stages that lie ahead. He did not reveal it so that you would say,"This is all there is."
Fihi Ma Fihi, Hazrat Mevlânâ Jalāl al-Dīn Rūmī



Hazrat Mevlânâ considered each soul came to earth to fulfill a purpose, and that life presented it with a series of signs (Āyāt) that, at first blush might seem like "normal, everyday affairs," but are actually forms that hold unique meaning and guidance for that soul. Fihi Ma Fihi, recorded by Rumi's eldest son Sultan Velad, is a series of teachings the master presented that are as pertinent today, as they were then. When we bring presence and practice to his words, the timeless baraka that flowed through him when he resided in Konya is still available to us today.

Of Rumi Hazrat Inayat Khan said, "The wide pitch of Rumi's ideas is so vast that once a person becomes interested in his works he begins to feel that all the scriptures of the world are put in one scripture, and that is Rumi's.


His teaching is that God can be best understood not by thinking that He is in heaven, but by recognizing Him in His manifestation. The most prominent manifestation which represents God is the godly. He brings God on earth; in other words, he brings heaven on earth, and he raises earth to heaven. Rumi is the first mystic who does not inflict or impose upon people a forced renunciation or asceticism. He is the first mystic who came forward in the world and said that the essence of spirituality is the quality of heart. No mystic will ever say it as Rumi has:


"Whether you love man or whether you love God, at the end of your destiny
you will be brought before the King of love."




Written lessons will be posted, along with pertinent practices (including an audio tape of the practice), every other week, allowing time to read, reflect, do the practices, ask questions or make online comments, and enter into a written dialogue with class participants from around the world as well as with Himayat. Participants can enter the class whenever it is convenient to do so and can print off the lessons and class material to review after the class ends.


There will be three international Zoom sangha sessions scheduled on Sundays, 1 PM (Eastern USA time).These sessions, although not required, strengthen practice, understanding the lessons, and provide a deepening sense of spiritual community (sangha). There will also be an optional three-day International Class Zoom Retreat scheduled to deepen participants realization of class material.


Pods, that are optional, will be created both in the USA and in Germany to support on-going dialogue and reflection with other class participants. All classes and Zoom meetings are given in English and will be translated into German.


Starts January 14th – Ends March 26th, 2023
Registration Ends January 3, 2022
Tuition $195.00


Registration: Due by December 30th.

Address tuition check to: Universal Awakening,




PO Box 1958, Leicester, North Carolina 28748. Our send via PayPal to
office@universal-awakening.org