Keys to the Divine Treasury Series - Winter 2020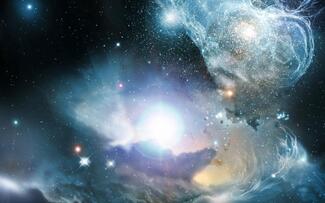 On al-Halim: The person of faith is like a pearl: wherever he may be, his light goes along with him. You are a pearl that We have brought out from the ocean of nonexistence with the hand of power and placed in the shore of existence by the decree of generosity and munificence. If you are in paradise, light will be with you; if you are in dust, light will be with you; and if you are at the resurrection, light will be will you; (their light running before them 57:12)." Ahmad Sam'ani


and

"Fire comes into the open from the curtain of concealment and throws out sparks. When it doesn't see any confidant, it pulls back its head. If it does find something already burned, it catches and brightens the world.
In the same way, the fire of love will never catch in any self-seeing wealthy man or refractory sultan. It will catch rather in someone so burned that, if you test him by poking your finger on a spot of his heart, it will fall to pieces." Ahmad Sam'ani



Love, Lover, Beloved & The Divine Names
"The place of Love is the heart, and the heart is pure gold, the pearl of the breast's ocean, the ruby of the innermost mystery's mine. . . The divine majesty polished it by gazing upon it, and the burnisher of the Unseen placed its mark upon it, making it bright and pure . . . the traces of the lights of beauty of unqualified Love appear in the mirrors of pious hearts. Human love subsists through God's Love." Ahmad Sam'ani



Our next "Keys to the Divine Treasury" series will be a continued and final exploration of the divine name, at least final for now. We will be moving from Hamid al-Ghazali's theological, ethically oriented, emphasis on obtaining eternal felicity and Ibn al Arabi's theosophical, unveiling, transformational process that emphasized becoming a servant of the divine, to Ahmad Sam'ani's (d.914) emphasis on the love relationship between the Divine One and the human - focusing on al-asmâ' wa'l-sifât as portals to divine intimacy (uns). The prior classes on the divine names are not prerequisite to join this caravan into the sacred - all are invited!
We will be drawing from Sam'ani's 600 page "The Repose of the Spirits: Explaining the Names of the All-Opening King," recently translated by William Chittick, the first commentary of the divine names written in Persian. Sam'ani's book, predating Rumi's "Masnavi," is similarly structured, and certainly deeply informed Mevlana. In his "The Repose of the Spirits" Sam'ani explores the divine names as relationships between God and humanity through stories and poetry, speaking to his readers about their personal situations, explaining why they are driven by a love affair with God, a God who is full of loving compassion and good humor, whether they know it or not.
Course duration: January 18th - March 28th, 2020.
Registration Ends: January 4, 2020
Tuition: $185.00
Past Class Reviews:


"It is some years ago now, that I joined Himayat's online community, and I am deeply grateful for this connection. One thing which I really appreciate is the fact that he puts a lot of time and energy and love to condense the teachings in a digestible form and offers written material, where I can go back to certain points again and again, reread important quotes and explanations, make notes etc., which would be impossible with only audio or video teachings. Plus I love his practices, which have an amazing subtlety and variety and are drawn from the ancient Sufi tradition as well as our own lineage. And I feel greatly supported by the discussions with other participants and Himayat in the online forums. It helps to stay connected, to learn from other's experiences and insights, and also their struggles. And I appreciate Himayat's profound answers to our questions and his ability to address the question behind the obvious questions.


The Buddhists speak of three jewels on the path - the teacher, the teachings and the sangha (community of fellow seekers). All three are present in Himayat's courses."


Nurunnahar Dengg, Vienna, Austria




"There are many reasons I signing up for Himayat's online classes: the inspiring readings we contemplate and discuss, the exquisite accompanying meditations, the camaraderie of fellow travelers on the path from around the globe, the many "flashes" and "openings" along the way.


Our "classroom" experiences together – spaces of nuance, subtlety, beauty, and new understandings – demonstrate the fresh revelations held in each moment as described by one of the greatest Sufis, Ibn al-Arabi. These studies exercise the mind and nourish the soul.


Lakshmi Barta-Norton, Providence, Rhode Island
"Part of the explorations Himayat leads bring out the great truths of the ancient Sufis and introduce core concepts of these deep esoteric teachings. Such teachings are difficult to grasp without a guide whose teaching supports and encourages deeper attunement and understanding of their wisdom. A guide is needed who has deeply experienced these truths in their own path, and who can articulate them. I have found great inspiration for my own path in these classes, and hopefully a foundation is beginning to develop in me for delving much more deeply into this wisdom in the future.
The virtual community that develops from this is a great service and holding for spiritual life. The classes become portals that connect, sustain, hold and contain the immensity of our spiritual awakening. We are fortunate to live in an age where such wisdom can be shared so widely."


Sylvia Surya Mann, London, England
To Register: Send $185.00 check addressed to: Universal Awakening, PO Box 1958, Leicester, North Carolina 28748 or process credit card via PayPal (Merchant: office@universal-awakening.org / Item: Spring Online Class)
P.S. If you send money as a "friend" Paypal does not impose a processing fee.